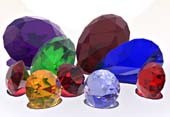 Remedies & Gemstones
Through our Remedies Report, you are presented a list of corrective actions to offset the quantity and quality of karmas that are returning to you, as seen in the birth chart. These fortifying practices include such measures as gemstones, mantras, yantras, fasting, donations, balancing rituals called Yagyas, and small acts as prescribed in Lal Kitab, used to propitiate or soothe the impact associated with unfavourable planetary positions.
Gems & Metals – when worn correctly help tide over malefic effects of planets. Report outlines which gems stone sill suit you, weight of gemstone, right metal and time, day, date and other wearing Instructions for the Gem Stone, in order to get what you desire from it and mantras to keep it energized for the future.

Mantra - It is the recitation of a particular sound repeatedly to overcome the problems set forth by the planet which responds to that particular sound. Each root word generates a sound that activates a different centre in the human body that correlates to the particular planet.

Tantra - At times when the Mantra does not work because of difficult malefic position of planets in a horoscope in that case Tantric sound patterns work like surgery and clears most of the hurdles.

Yantra - This is a Mystic diagram often put up as a plaque. Some Yantra are a part of Tantra practice since Yantra is one of the cardinal principles of Tantra.

Lal Kitab – This offers unique remedial measures to solve chronic and critical human problems in day-to-day life. These measures do not require the practice of ordeals, complicated and expensive rituals, which prove more troublesome for persons who are already in trouble because of the evil effects of certain planets. The measures suggested in Lal Kitab are effective in solving all kinds of human troubles and tensions, without inflicting harm on anybody i.e. these remedies are completely self defensive against the evils created by the planets without causing injury in anyway to anyone concerned.